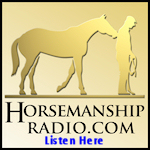 HORSEMANSHIP RADIO SHOW
Horsemanship Radio is an online radio show (podcast) dedicated to the exploration of good horsemanship throughout the world. Hosted by Debbie Roberts Loucks (Monty Roberts' Daughter) the show includes segments, tips & interviews exploring good horsemanship. Part of the Horse Radio Network. Published twice a month on the 1rst and 15th.
Visit the Horsemanship Radio Show Website
Subscribe in iTunes for free.
Part of the Horse Radio Network